Quartiers Modernes Frugčs
Year: 1924 / Place: Pessac, France
The Pessac housing scheme, located in a small village among the vineyards on the road which leads from Bordeaux to the coastal resort of Arcachon, grew out of the Lège scheme (q.v.) and the partnership between Henri Frugès and Le Corbusier. The plan was to build around 130-134 houses as a model estate, not for Frugès's workers (as in the case of Lège) but for sale. In the end, 51 houses were built, of which one was destroyed during World War II. The project which was to have demonstrated the economic and technical benefits of industrialised building methods using the very expensive Ingersoll-Rand cement cannon (c.f. Lège entry), was eventually built by hand by Le Corbusier's favourite builder, Georges Summer. Delays were incurred, costs escalated, and when the houses were completed they proved impossible to sell. Since December 1980, the estate has been listed as a Historic Monument, and there has since been a fascinating mixture of cultures within the estate, with some heavily modified houses cheek by jowl with carefully restored Corbusian works. The site is a living test case of the advantages and disadvantages of Le Corbusier's ideas on domestic architecture.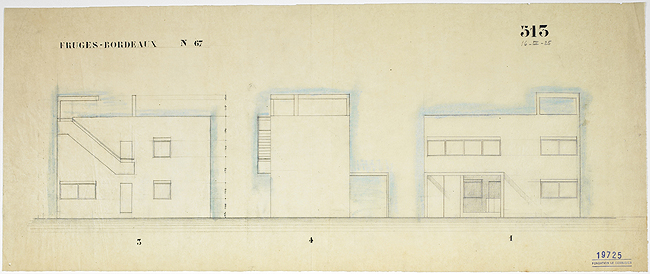 FLC 19725 "Three facades (3, 4 and 1) with dimensions"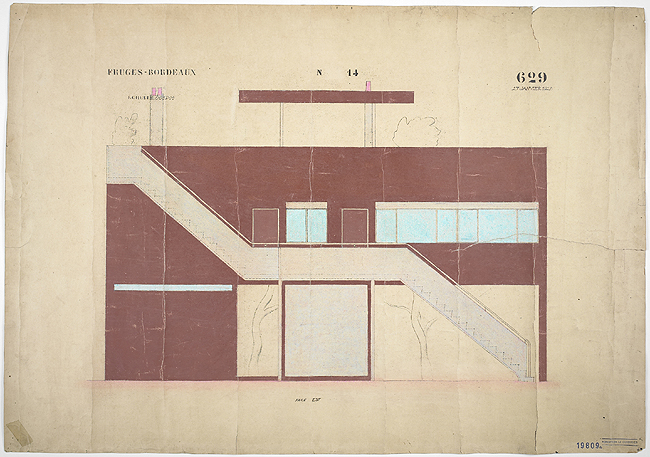 FLC 19809B "Print of FLC19809A with color (polychromy) / Overleaf, annotations"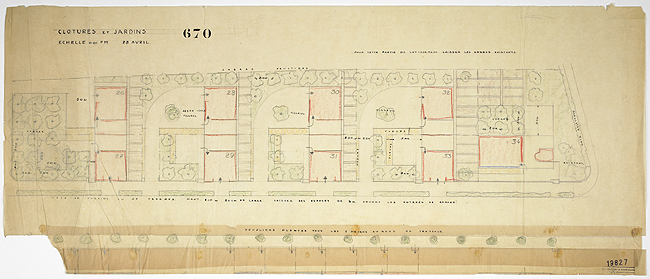 FLC 19827 "Plan of a block layout (skyscrapers) with gardens and surrounding walls, dimensions and legend, notes"
To read further please sign in up with our Premium service.
Back