Musée National d'Art Occidental
Year: 1955 / Place: Tokyo, Japan
The Tokyo museum figures in Le Corbusier's production inscribed in a dual sequence. On one hand, it is a tardy development of the museum-type that he first elaborated in 1930 for a Museum of contemporary art in Paris (1), which gave rise to the project for a pavilion at porte Maillot in 1950, and ultimately to constructions at Ahmedabad and Chandigarh. On the other hand, as the project unfolded, we see in it the first appearance of formulations for other types of large buildings characteristic of the last part of his life's work.
In April 1954, Kunio Maekawa, a former collaborator in his office, wrote to Le Corbusier on behalf of the Japanese ministry of Foreign Affairs to invite him to come to Japan to discuss the commission for a museum destined to house the collection of French art made by the shipbuilding magnate and former Japanese diplomat in Paris Kojiro Matsukata, which had been confiscated during the war (2). The construction of a museum for these works had been imposed on Japan by the French government, in exchange for their restitution. The site chosen was in Ueno park, north of the centre of Tokyo. Amidst this superb setting, to which the people of Tokyo flock every April to see the cherry trees in bloom, Jin Watanabe had built between 1932 and 1938 the National Museum, a solid symmetrical composition that featured a traditional roof, typical of the monumental architecture of public buildings in the early Showa period.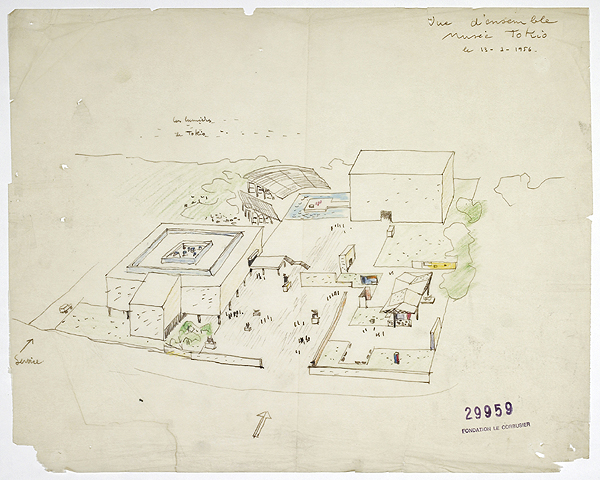 FLC 29959 "Sketches of aerial perspective towards the Museum in situ with human figures, color, captions"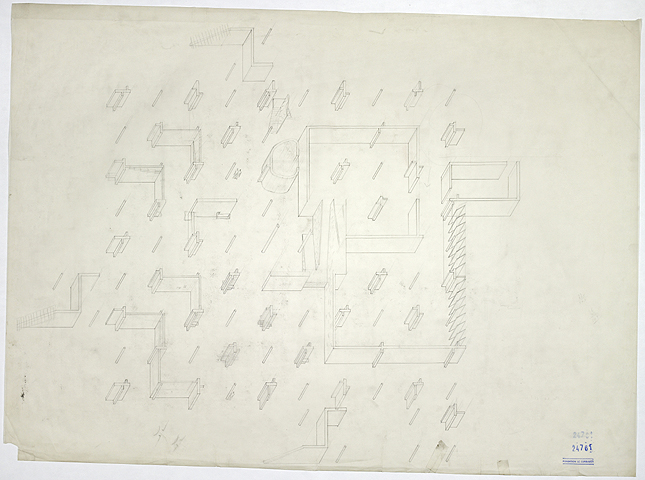 FLC 24761 Study drawing of axonometric cut through entrance level with human figures

FLC 24624 "Southwest facade with panels, undulatory panel, human figure / Captions, graphic rendering"
To read further please sign in up with our Premium service.
Back