Palais de l' Assemblee
Year: 1951 / Place: Chandigarh, India
On 15 April 1964, Le Corbusier attended the inauguration of the Palace of the Assembly of Chandigarh. It was his 23rd and last trip to India. The project for the Assembly Building, begun 13 years earlier, in April 1951, was spread out over the total period of the years in India. Le Corbusier, who then attended a session of the Parliament, noted in the last pages of what would be virtually his last sketch book: "This Assembly Building is a miracle of architecture: framework, proportions, materials // the Hall is a limitless Amphitheater, wide and high...Write to Nehru design of Open Hand + Assembly = Monument of worldwide value. Make 1 law proclaiming it a Historical Monument."(1)
Strolling through the interior of the Palace of the Assembly of Chandigarh is a great architectural experience: discovering the hall from below while walking up a ramp, moving among high columns in the shadowy light, touching the curve of the concrete, being dazzled in the assembly hall, coming across the blue enamel door...take a trip that starts at the Parliament of Dacca, by Kahn, and finishes at the Parliament of Chandigarh...
Compared to Le Corbusier's other Indian buildings, the Assembly Building in Chandigarh required considerable energy. The 800 documents preserved at the Fondation Le Corbusier and available for consultation here, permit us to follow step by step the design of what some consider as one of the major buildings of his entire work. We cannot in this short paper look into the complexity of the whole, but we would like to provide a few indicators.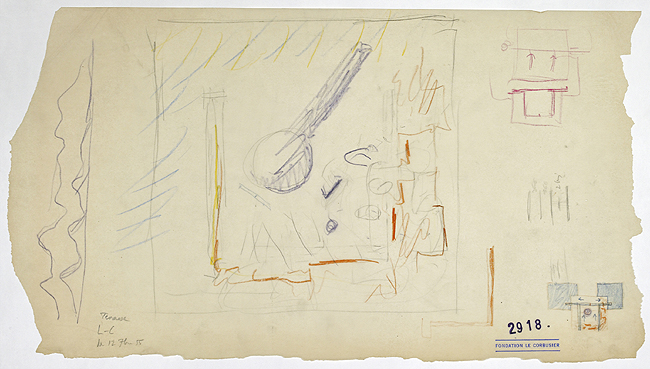 FLC 2918 "Sketch study of floor plan at terrace level with color, orientation / Sketch and concept plan"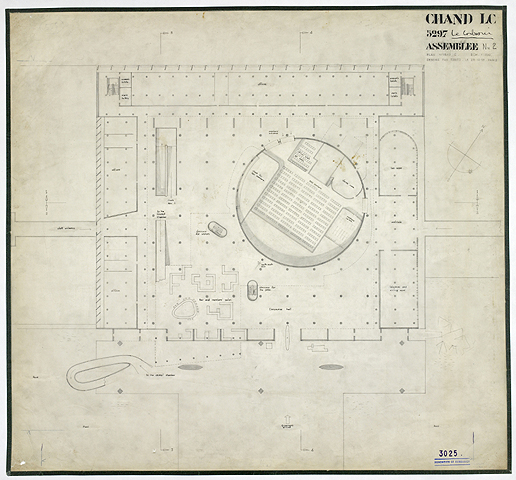 FLC 3025 "Floor plan with interior layout of assembly room, vertical circulations, partition / Legends, orientation"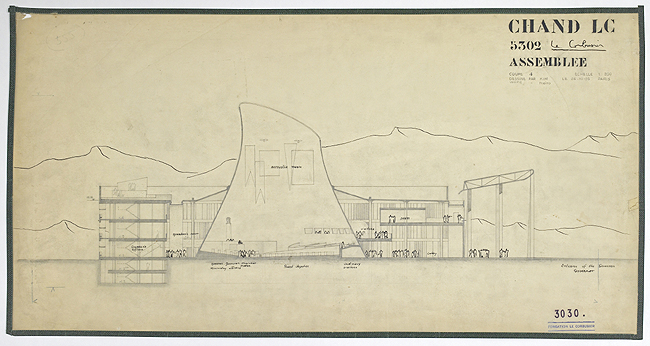 FLC 3030 "Section through assembly room with interior layout and banners, figures / Legends"
To read further please sign in up with our Premium service.
Back